The Hindu : Friday Review Chennai / Music : Based on pragmatic perception
Online edition of India's National Newspaper

Friday, Apr 04, 2008
| | |
| --- | --- |
| Friday Review Chennai and Tamil Nadu | Published on Fridays |
 Based on pragmatic perception
SVK
The Chinmaya Sisters preserved the spirit of Bahula Panchami by singing many kirtanas of the saint instead of displaying their own prowess.
Photo: R. Shivaji Rao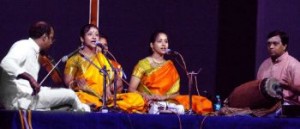 Crisp rendition: Chinmaya Sisters, Uma (left) and Radhika.

In their concert for Sri Thyagaraja Seva Samithi, Chinmaya Sisters, Uma and Radhika, preserved the spirit of Bahula Panchami by singing many kirtanas of the saint instead of a display of prowess by way of elaborate raga alapanas, niravals and swarap
rastharas.
The patanthara of the compositions was meticulous, enhanced by the clear articulation of the sahityas. Their energetic voice defined their objective in the framework of the recital.
The song list was also well chosen with 'Brova Bharama' (Bahudari) 'Salagalla' (Aarabhi) 'Kanukontini' (Bilahari) which, at the start indicated the over-all tenor of the performance.
When two sing kirtanas together, the effect gains momentum. Added to that, the sisters were very conscious of building up and maintaining the tempo in each and every item. Each song came through with commitment to the end kept in view. The Aarabhi and Bilahari songs were rendered by them with increasing pleasure.
Two ragas were taken up for alapanas, Pantuvarali (by Radhika) and a well-structured Thodi (by Uma). Of the two, the latter was fluent in mounting sancharas.

Absorbing and precise

The raga spread by both was uniformly pleasing. 'Ninnunera Nammi Naanura' (Pantuvarali) was absorbingly precise. The Thodi piece, 'Kaddanuvaariki' was well nurtured emphasising the musical intricacies built into it. Being a major item in the programme they saw to it that it stood out crisply with their perspective focussed on the felicitous flavour that Tyagaraja had endowed on it.
Uma and Radhika addressed their efforts to the harmony between their voice and the sculptured beauty of the Abheri kirtana 'Nagumomu Ganale.' They injected tonal fervour into the tara sthayi passages of the kirtana.
The concert's pragmatic perception was manifest in the choice of the songs befitting the occasion.
Violin and mridangam accompaniments by V. Sanjeev and Kallidaikurichi Sivakumar respectively were co-operative in the sincerity of maintaining the quality.
The interplay of short and long sancharas, of depth and directness, made the violinist's solo versions highly impressive. At the hands of Sivakumar there was ready and vivid consistency which formed the texture of his rhythmic syllables.
While being very enlivening both during following songs and in his thani there was tenderness in the sound level. He brought out the dignity and graces of percussive support.
---