The Hindu : Friday Review Thiruvananthapuram / Events : Dedicated to Swati Tirunal
Online edition of India's National Newspaper

Friday, Dec 12, 2008
| | |
| --- | --- |
| Friday Review Thiruvananthapuram | Published on Fridays |
Friday Review

Dedicated to Swati Tirunal

KARTHIKA VARMA
Rasikas in Kozhikode were treated to three days of chaste Carnatic music during the Sri Swathi Thirunal Sangeetholsavam.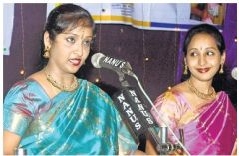 Pristine rendition: Chinmaya Sisters Uma and Radhika

A three-day music festival called Sri Swathi Thirunal Sangeetholsavam provided an aural feast for music buffs in Kozhikode. Chinmaya sisters, Uma and Radhika, from Chennai, disciples of Madurai T.N. Seshagopalan, began the fete with a competent recital.

Expertise in swaras

They began their concert with the popular Ragamalika varnam 'Valachi,' composed by Pattanam Subramania Iyer. Each raga was handled with ease and beauty. The famous Swati kriti in Mayamalava Gowla 'Deva deva kalayami' followed. It was slightly elaborated with swaram singing, where the sisters' expertise was evident.
Next came two melodious Tyagaraja kritis 'Vandanamuraghunandana' in Shahana, set to Adi tala, and 'Daridapu' in Saveri, again set to Adi tala. The raga alapana of Shahana was short, yet it gave the audience a clear idea of the raga. The Chinmaya sisters continued their concert with a not-so-popular 'Sharavanabhava' set in Pashupathipriya raga, Adi tala, composed by Muthiah Bhagavathar. It was a refreshing choice.
The main piece of the evening was 'Evarimatta' in Kamboji, composed by Tyagaraja. The swarams were sung with ease and Manjoor Ranjith on the violin followed them like a shadow. Sherthalai Krishnakumar on the mridangam and Manjoor Unnikrishnan on the ghatam made the Taniavarthanam an enjoyable experience.
After the rich and elaborate Kamboji, the sisters sang a rare but divine Hamsanandi, 'Punnagai ontre,' a Ambujam Krishna composition in Adi tala. It was a real treat for the listeners. They concluded the concert with 'Jagadodharana,' a popular song in Kapi, a Purandaradasa composition.
---